Entering the contest on this page requires a modern browser – but you can donate directly and enter the contest at The Hunger Site Store.
Feed Thy Neighbor
Supporting Our Neighbors in Their Time of Need
JOIN

Chris Pratt in giving to Hunger Relief!
WIN

the chance to meet Chris and give a $10,000 donation to your local food bank!
WATCH

Chris' star-studded telethon on his Instagram Live broadcast on New Year's Eve and you could be recognized on air!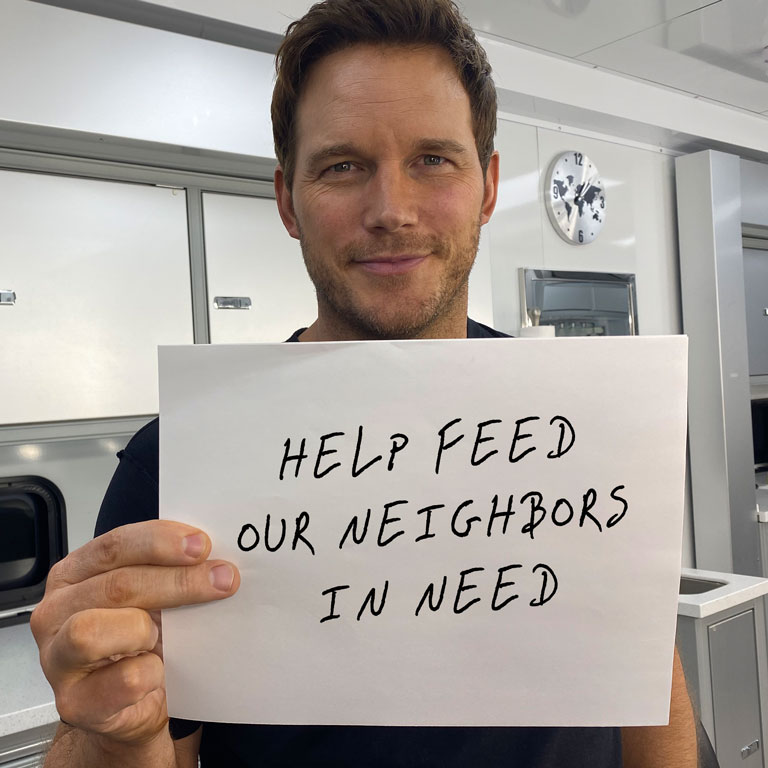 Let's end 2020 with something GOOD.
Help us support food banks and our neighbors in need by making a donation, and you will be automatically entered for a once-in-a-lifetime opportunity to meet Chris and surprise your local food bank of choice with a $10,000 cash donation!
Your donation with Chris will also be featured as part of his first-of-its-kind Instagram Live telethon on New Year's Eve, packed with celebrity cameos and excitement.
It's the most meaningful ball drop event this year, and you could be an important part!
Our Goal: $100,000 for hunger relief
You've helped us raise $7,340 so far!
Largest Donations to Date
Your donation will not immediately affect the data reported here; information is updated daily at 5pm PST.
The top donor, along with 5 random winners, will meet Chris and award their local food bank with a $10,000 donation in their name! They will also be recognized by Chris as part of his New Years Eve telethon event!
Every $1 USD donated = 1 entry (1000-entry limit)
Enter without making a donation →
Your Neighbor Needs You Now
The Coronavirus pandemic has led to a dual crisis: there is a meal shortage for food banks serving our most vulnerable; meanwhile, these same frontline groups are experiencing a decline in donations.
As the economic fallout from the pandemic ripples through our country, many people are finding themselves questioning where their next meal will come from for the first time. This is an especially hard realization during the holiday season.
These are our friends. These are our neighbors. They need our help.
How Your Donation Helps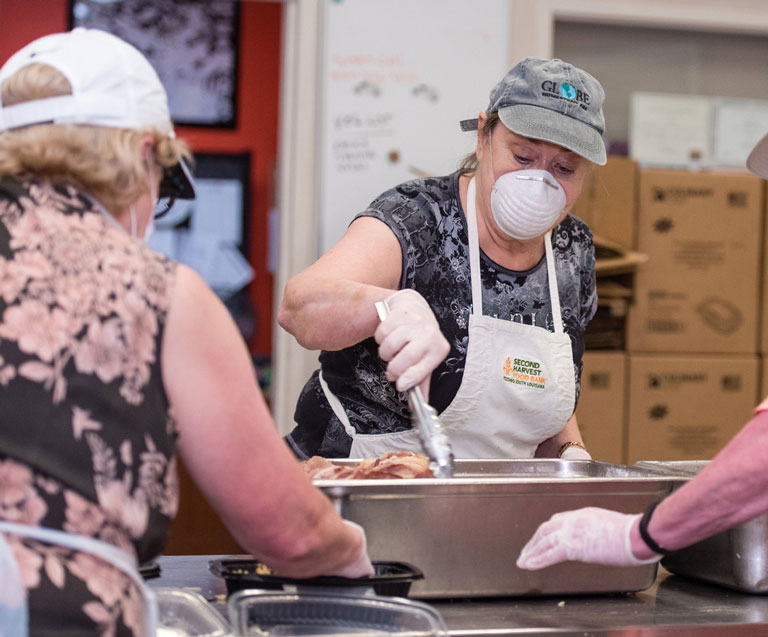 Half of all funding received will go to Feeding America® to help address the meal shortage that is hitting our nation's food banks. The other half will be provided as cash grants to front line hunger relief organizations in areas hardest hit by the economic impacts of COVID-19 to ensure they are able to sustain their operations to help people who need it most.
100% of every donation will go to help. The Hunger Site is covering all credit card processing fees and Greater Good Charities will grant out 100% of the funding received.
Enter For A Chance To Meet Chris And Donate $10K To Your Food Bank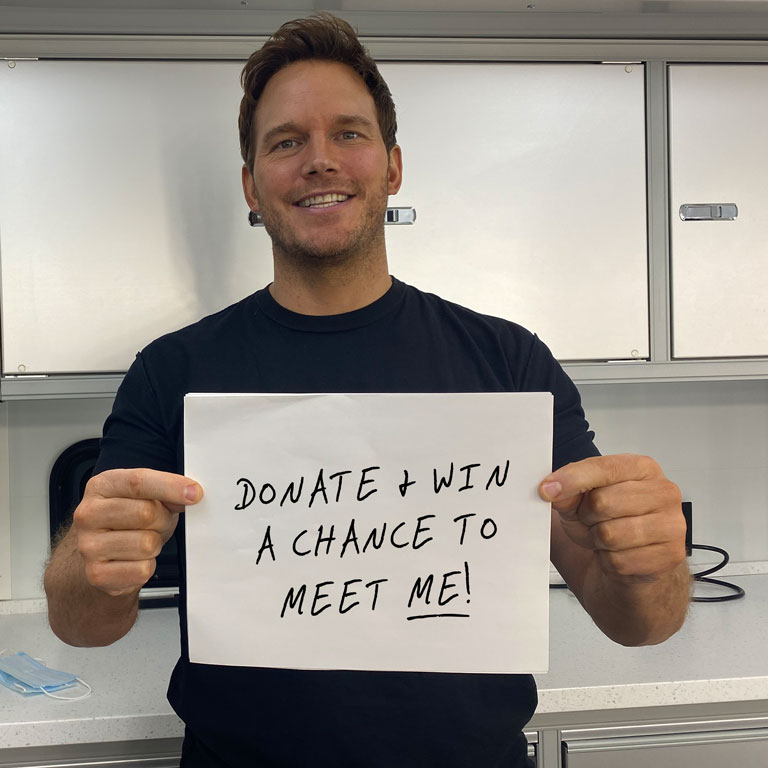 Every $1 donated = 1 entry (up to 1,000 entries)
5 winners will be drawn at random to meet Chris live on Zoom on December 30th. Together with Chris you will award the food bank of your choice with a $10,000 cash donation in your name.
And as a thank you, Chris is also inviting the top donor to a private Zoom meeting and food bank donation!
These donations will also be compiled into a video that will be broadcast on Chris' Instagram and included as part of his star-studded hunger relief telethon on New Years Eve where YOU will be recognized for your help for those in need!
Help us close the book on 2020 with the most meaningful and impactful ball drop event of the year!